Is It OK To Eat Pecans When On Renal Diet
2014-04-16 01:46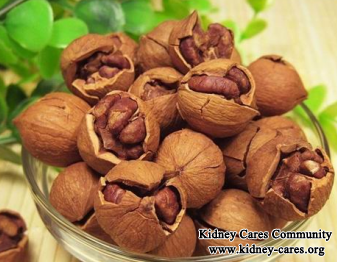 Recently, several studies have found that nuts, including pecans should be included in your daily diet because pecans contain vitamin E, calcium, magnesium, potassium, zinc, fiber as well as antioxidants. So make sure you are eating enough pecans to reap all of the healthy benefits. Also, pecans are necessary for chronic kidney disease patients.
Pecans have the following benefits for renal disease patients.
1. Boost your immune system
Pecans are loaded with antioxidants that fight against heart disease and cancer.
2. Very higher in fiber
Pecans are very higher in fiber that keeps your digestive system well regulated. This benefits renal disease patients a lot. We know when suffering from kidney disease, wastes will pile up in your body and may circulate in your blood, which makes you uncomfortable. Eating moderate pecans can alleviate this symptom.
3. Phytochemicals
Phytochemicals in pecans like vitamin E, betacarotenes, lutein, and zeaxanthin neutralize free radicals and protect your body from infections and diseases, including cancer.
4. Blood pressure
While eating pecans and other nuts can't cure high blood pressure, they are an important part of the dietary approaches to stop hypertension(DASH) eating plan. To stop high blood pressure, it is very important for kidney disease patients, otherwise, it may cause further kidney damage and aggravate kidney condition.
5. Lower cholesterol
Pecans contain unsaturated fat, which has been known to lower cholesterol levels.
6. Omega-3 fatty acids
Omega-3 fatty acids, which are found in polyunsaturated fats, are higher in walnuts. This type of fat not only aids with heart heath, but it also prevent stroke, controls blood clotting and builds brain cells.
From the above information, chronic kidney disease patients are good to eat pecans. However, it does not mean all patients can eat pecans. If the patients have high potassium or high phosphorus level in blood, they should follow a low level diet. In this condition, they should avoid or limit pecans intake due to their high potassium and phosphorus level content.
Our Treatment Effect
High creatinine level is dangerous to a kidney patient
Move the mouse to enlarge the picture
If you also want to reduce your high creatinine level, please look at this patient's report. When he was just hospitalized in our hospital on Dec 11, 2018,
His creatinine:1028umol/L,
urea: 39.7mmol/L
UA : 513umol/L
After a period of our treatment,
his creatinine:331umol/L, urea:16.1mmol/L
UA :325umol/L on Jan 5, 2019.
His condition was getting better and better. You can also get better.
For a CKD patient, you can choose Chinese medicine treatments to control your condition. your creatinine level can be reduced radically, symptoms can be alleviated and more importantly, your renal function will be improved. In this way, you can stay away from end stage kidney disease and avoid dialysis.