Food to Lower High BUN Level
2014-04-01 16:20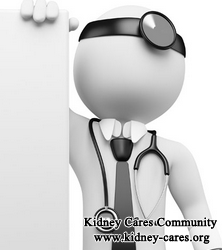 High BUN level always follows patients with kidney disease very closely. In view of this, here we will discuss what food which can lower high BUN level patients with kidney disease should eat.
Before getting to the point, see why high BUN level occurs.
For patients with kidney disease, due to decreased kidney function, large quantities of wastes an toxins can't be removed from body including BUN. In addition, BUN is a waste which is produced when protein is decomposed in body. In this way, high BUN level is caused.
What kinds of food can do good to lowering BUN level?
1. Low protein and high quality protein
Patients with kidney disease should have a low protein diet, but they can eat more high quality protein food. The reason is below:
Protein produces BUN when decomposed. Much intake of protein contributes to high BUN level. In addition, proteinuria is very common for patients with kidney disease. However, high quality protein produces few wastes, in addition, essential amino acid which is necessary for people is rich in high quality protein. Lean meat, egg white, fish and milk are all high quality protein food.
2. Limit intake of salt
As we know, much salt can lead to elevation of blood pressure. And high blood pressure does harm to kidney, making kidney function decrease further. In this way, kidney can't remove much BUN from body, contributing to high BUN level. Thus, patients with kidney disease should limit intake of salt in daily life.
3. Water
Water is very important for our body. So patients with kidney disease need to have enough water. But due to kidney disease, swelling always follows them. Patients with kidney disease should limit water strictly in daily life on condition that edema are very severe. This is because much water aggravates swelling and affects kidney function, deteriorating high BUN level.
Besides, high phosphorus and potassium levels occur obviously on patients with kidney disease. In this case, if patients with high BUN have more phosphorus and potassium, kidney will carry much pressure, leading to high BUN. As a consequent, limiting phosphorus and potassium is also needed in daily life.
Our Treatment Effect
High creatinine level is dangerous to a kidney patient
Move the mouse to enlarge the picture
If you also want to reduce your high creatinine level, please look at this patient's report. When he was just hospitalized in our hospital on Dec 11, 2018,
His creatinine:1028umol/L,
urea: 39.7mmol/L
UA : 513umol/L
After a period of our treatment,
his creatinine:331umol/L, urea:16.1mmol/L
UA :325umol/L on Jan 5, 2019.
His condition was getting better and better. You can also get better.
For a CKD patient, you can choose Chinese medicine treatments to control your condition. your creatinine level can be reduced radically, symptoms can be alleviated and more importantly, your renal function will be improved. In this way, you can stay away from end stage kidney disease and avoid dialysis.