Can People with Kidney Disease Drink Coconut Water
2014-03-23 15:46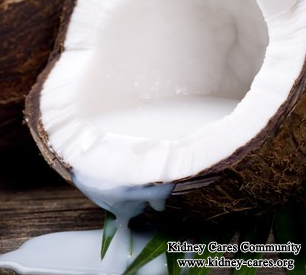 Can people with kidney problems drink coconut water? In recent days, some patients with kidney disease are very concerned about their diet in daily life, and come up with this question. Here we will give them a specific answer.
Primarily, let's have a general understanding of value of coconut water.
Coconut water contains many vitamins and minerals. In addition, unripe coconuts have more coconut water than ripe coconuts. Because when coconuts mature gradually, white flesh will increase replacing water. Coconut water contains antiviral, and has the properties of antibacterial, anti-inflammation, and antioxidation.
Now let's see how coconut water is beneficial for patients with kidney disease.
1. Prevent inflammation
Patients with kidney disease are very easy to get infected and inflamed. Coconut water can make them stay away from infections and inflammation.
2. Diuretics
Coconut water can also be used as diuretics. Drinking coconut water can help patients with kidney disease produce more urine, which can make more wastes and toxins flow out of body. However, if patients with kidney disease have serious swelling symptom, they should limit intake of water.
3. Enhancement of body
As there are many vitamins and minerals in coconut water, drinking coconut water can make patients with kidney problems enhance immunity. Moreover, it can help repair kidney damage and supply energy to kidney.
4. Regulate balance of electrolyte
As kidney disease can cause imbalance of electrolyte, patients with kidney disease can drink coconut water to regulate electrolyte, balancing electrolyte. Nevertheless, due to rich potassium in coconut water, if patients with kidney problems have high potassium level, they should limit intake of coconut water.
Besides, coconut water has been widely used to treat dehydration caused by cholera, stomach flu, dysentery, etc.
From the above, we can know that coconut water is beneficial for patients with kidney disease. But they should notice that if they have high potassium and swelling, in this two cases, they are not to recommended to drink much coconut water.
Our Treatment Effect
High creatinine level is dangerous to a kidney patient
Move the mouse to enlarge the picture
If you also want to reduce your high creatinine level, please look at this patient's report. When he was just hospitalized in our hospital on Dec 11, 2018,
His creatinine:1028umol/L,
urea: 39.7mmol/L
UA : 513umol/L
After a period of our treatment,
his creatinine:331umol/L, urea:16.1mmol/L
UA :325umol/L on Jan 5, 2019.
His condition was getting better and better. You can also get better.
For a CKD patient, you can choose Chinese medicine treatments to control your condition. your creatinine level can be reduced radically, symptoms can be alleviated and more importantly, your renal function will be improved. In this way, you can stay away from end stage kidney disease and avoid dialysis.