Whole Grains And End Stage Renal Disease
2014-03-19 14:47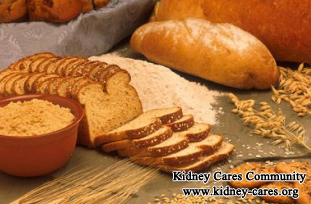 Can whole grains be eaten by end stage renal disease(ESRD) patients? In ESRD, phosphorus is not excreted from the body due to kidney deficiency, causing secondary hyperparathyroidism and elevations in fibroblast growth factor-23. And hyperphatemia also leads to vascular calcification, which is able to increase the risk for cardiovascular events and therefore has a negative effect on survival. In theory, a low phosphate diet helps prevent these sequelae. Then are whole grains these kinds of diet?
Whole grains are high in phosphate content and thus it will prevent our body from absorbing enough calcium and normally, our kidneys make phosphorus level in a stable range. However, for end stage renal disease patients, their kidney functions have been severely damaged, and they cannot discharge excess phosphorus out of the body. They are more likely to develop high phosphorus level. In this light, they should not consume whole grains. Apart from whole grains, other phosphorus foods also need to be avoided, such as pumpkin, sunflower seeds, cheese nuts, roasted soybeans, flax seeds, bacon and potatoes and peppers and so on.
End stage renal disease patients had better not eat whole grains, but it does not mean whole grains have no benefits at all for chronic diseases patients. The studies have shown that diets with high amounts of whole grains may help achieve significant weight loss, and also reduce the risk of chronic diseases such as diabetes and cardiovascular disease as well as high blood pressure.
Whole grains showed an increased intake of fiber and magnesium,both of which may prevent or delay the potential onset of diabetes.
Besides, whole grains are rich in fiber, B vitamins, antioxidants, minerals, phytochemicals, and phenolic compounds. They have been related to reducing the risk of obesity, insulin resistance, type 2 diabetes, heart disease, hypertension and cancer. All these provide for reducing the mortality of ESRD patients.
We cannot give you an exact answer for whether you can eat whole grains or not in end stage renal disease. The safest way for your condition is to describe your detailed condition to our online experts or send it to kidneycares@hotmail.com,and we will reply you as soon as possible.