Is Black Fungus Preventive For Heart Disease
2014-03-18 10:10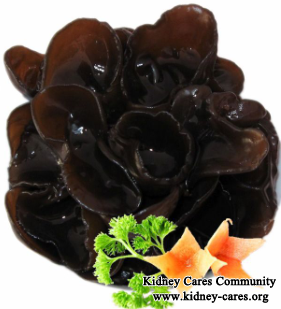 Black fungus is not only delicious, nutrient-rich, but also has many therapeutic efficacy. Black fungus is beneficial for coronary heart disease, cardiovascular disease and cerebrovascular disease. Here I will introduce the benefits of black fungus for preventing heart disease.
Black fungus is rich in vitamin K and minerals such as calcium, magnesium, which is able to reduce blood clots and prevent the occurrence of thrombosis embolism so as to prevent and treat atherosclerosis and coronary heart disease. Heart disease and other cardiovascular diseases are silent-killer for chronic kidney disease. Occasionally, complications kill people more faster than kidney disease itself. Thus, eating black fungus to prevent heart disease is not only good for heart disease patients but also for chronic kidney disease patients.
Besides, black fungus has other benefits for kidney disease patients.
1. Cure constipation
Usually kidney disease patients have a limitation on their diet. Thus, they are prone to lack enough fiber intake plus water restriction. Thus, kidney disease patients often have constipation. Black fungus is rich in cellulose and a special kind of plant collagen. These two substances can promote gastrointestinal peristalsis and prevent constipation.
2. Iron supplement
Black fungus is the highest iron content. Because of its high iron content, black fungus may be timely for the human body add enough iron, so it is a natural blood foot. From this aspect, for anemia in kidney disease patients, patients can eat some black fungus to alleviate their anemia naturally.
3. Relieve arteriosclerosis
Black fungus is able to reduce triglyceride and serum total cholesterol, but increase the specific value between serum high-density lipoprotein cholesterol and total cholesterol. In this way, it is able to decrease cholesterol and relieve arteriosclerosis.
Apart from the above benefits of black fungus, it also can reduce blood sugar, boost immunity and prevent the formation of blood clots. On the whole, black fungus is preventive for heart disease and other kidney disease's complications.