A Healthy Diet Plan For CKD Stage 5 Patients
2014-03-16 14:26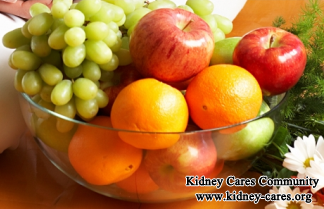 Eating healthy is important to us all, but it is even more important if you have stage 5 chronic kidney disease(CKD). This is because a good nutrition gives you energy to do your daily tasks, prevent infection, build and maintain muscle, help maintain a healthy weight. Then what is a healthy diet plan for CKD stage 5 patients?
A healthy diet plan gives you the right amount of protein, calories, vitamins and minerals. And the following I will tell how to eat is healthy.
1. Protein intake
Your body needs protein to help build muscle, repair tissue and fight infection. Before dialysis, a limited protein intake is needed which was to prevent wastes from building up in your blood. Once you begin dialysis, you may need a more protein intake. The more protein food can be found in red meats, pork, fish and eggs and vegetables and grains. Besides, some high protein foods may also contain a lot of phosphorus. Foods low in phosphorus is good for you.
2. Calories
How many calories you need differs from person to person. Calories provide your body with energy you need to live. It is important to plan meals that give you enough calories each day. If you have diabetes and stage 3 chronic kidney disease, ask your renal doctor to tell you the right amount of calories and keep your blood sugar in control. If you have started peritoneal dialysis on stage 5 CKD, eating smaller meals five or six times a day is a good strategy.
3. Enough calories and minerals
Stage 5 CKD patients and dialysis patients often limit some food choices that would normally give you important vitamins and minerals. In this condition, you should take vitamins and minerals recommended by your doctor, because some vitamins and minerals may be harmful to stage 5 chronic kidney disease.
Additionally, stage 5 CKD patients also need to balance fluids and essential minerals and electrolytes as sodium, phosphorus, calcium and potassium.
The above are just common diet plan for stage 5 Chronic Kidney Disease(CKD) patients. Maybe they are not suitable for you because different person has different illness conditions. Thus, if you want to know what you should eat, you can leave your message to kidneycares@hotmail.com or directly consult our online doctor to know the answer.