Can Ginger Lemon Juice Be Taken By CKD Patients On Dialysis
2014-03-11 14:51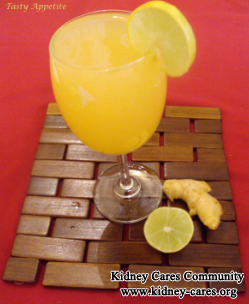 When your kidneys are no longer albe to filter waste products from the body, dialysis is often recommended for chronic kidney disease(CKD) patients. Ginger lemon juice is a nutritious drink and contains many minerals such as vitamin C, calcium, iron, phosphorus, sugar and so on. Ginger lemon juice is very beneficial for human body. However, CKD patients usually have a strict diet especially dialysis patients. Can ginger lemon juice be taken by CKD patients on earth. The following will state the answer to this question.
Generally speaking, whether a kidney disease patient can eat something or not mainly depends on the ingredients contained in the food. And there is no exact answer for whether a patient can eat it or not, because different person has different conditions. In view of this, if you happen to be a CKD patient and want to know whether certain food is good for you, you can leave us a message to kidneycares@hotmail.com or consult our online doctor.
For ginger lemon juice, we also can not say all kidney disease patients can drink it. But we can tell you when you can drink it and when you cannot.
In the following cases, you can drink ginger lemon juice.
1. Lemon is able to prevent cardiovascular disease.
Lemon is rich in vitamin C and vitamin P, which is able to strengthen blood vessel elasticity and toughness. This serves to prevent and treat high blood pressure and symptoms of myocardial infarction. The studies has shown that lime contains a substance-insulin which can make the abnormal blood glucose level decreased. Cardiovascular disease is one of the main complications of kidney disease. Thus, patients with chronic kidney disease can drink lemon juice, which is helpful for reducing the risk for cardiovascular disease to some extent.
2. Lemon has the function of antibiosis and enhance your body's immune system.
Vitamin C is contained in lemon and vitamin C has obvious function of antibiotics and anti-inflammation. Inflammation is one of the leading cause for kidney disease. The anti-inflammation of lemon is helpful for delay kidney disease.
3. Ginger has benefits for promoting blood circulation.
Ginger helps promote blood circulation to remove some wastes and immune complexes from the blood stream. In this case, high creatinine and high blood urea nitrogen can also be lowered to some extent.
However, for patients with CKD, if they have high potassium and phosphorus level, they should not drink ginger lemon juice. As high phosphorus level will lead to bone problems like bone pain and bone fracture. High potassium in your blood is able to cause irregular heart disease and muscle cramps. In these cases, CKD patients can not drink ginger lemon juice.