What Are Healthy Benefits Of Mung Bean On CKD Patients
2014-03-04 11:34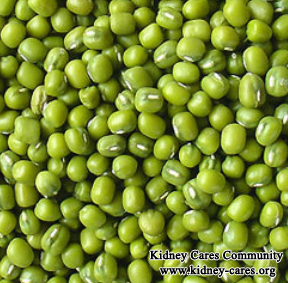 Mung bean contains many necessary elements such as protein, calcium, iron, potassium, manganese, zinc and vitamin and so on. Besides, mung beans can stimulate your appetite, reduce blood lipid and cholesterol, relieve angina and protect your kidneys. And we know chronic kidney disease (CKD) patients have a strict diet in daily diet. As the above mentioned, mung beans are able to protect kidneys. Then CKD patients can eat mung beans. Is it right?
Yes, it is. CKD patients can eat mung bean due to its following healthy benefits.
1. Control high blood pressure
High blood pressure is a big risk for kidney disease. Mung bean is nearly sodium-free and contains high potassium. In this case, high blood pressure patients can eat mung bean to reduce the risk for kidney disease. Whereas, patients with high potassium level should not eat mung so as not to worsen your conditions.
2. Improve immune system
Mung bean is rich in vitamin C which has a great benefit of improve immune system to stay far away from fever, cold and sore throat. It is able to increase the amount of phagocyte, which helps to maintain the normal function of the inherent immune system and protect kidney function.
3. lower blood lipid
Mung bean contains a kind of substance called polysaccharides which can increase the activity of serum protease. In this way, it will reduce blood lipid and decrease the chance of developing cardiovascular disease which is a serious complication of kidney disease and makes patients die of this complication. In this sense, eating mung bean is necessary.
Apart from the above healthy benefits, mung bean can also reduce high cholesterol, stimulate your appetite and alleviate edema.although mung bean has so many healthy benefits, it does not mean all chronic kidney disease patients can eat mung bean. If you eat it improperly, your healthy conditions may be aggravated. To be safety, you can consult our online doctor before eating it.