Is It Milk Bad For Kidney Disease Patients
2014-02-26 15:36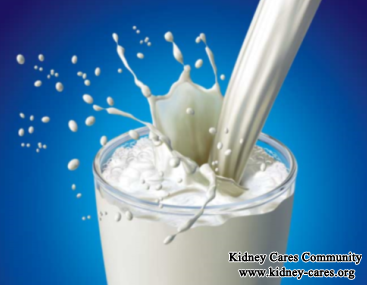 When people get kidney diseases, is milk still allowed? Follow us to find the answer.
People with chronic kidney disease(CKD) have to limit dairy product intake in their kidney diet, including milk.
We all know milk contains rich protein with various amino acids and high calcium intake. Drinking it are much beneficial to our health. People with kidney disease often have bone problems like bone fracture, bone pain or osteoporosis. People think drinking milk is good for alleviating their bone problems due to its high calcium. Despite milk's calcium content, its high phosphorus content may actually weaken bones.
The reasons why milk is not good for bones.
Bones are made of calcium and phosphorus. When kidney function is proper, they are able to keep these two minerals in balance in the blood and bones. However, if kidneys are damaged, this process becomes dysfunctional:
1. Excess phosphorus can not be filtered by the kidneys and pile up in the blood
2. Kidneys no longer activate vitamin D which will affect the ability of absorbing calcium from food eaten.
3. Elevated phosphorus in the blood will combine with calcium, leading to calcifications elsewhere in the body and decreasing the amount of blood calcium.
4. More calcium is released from the bones and a vicious cycle begins.
Due to its high phosphorus level in milk, milk is bad for patients with bone problems. Besides, high phosphorus of milk will cause other problems like itchy skin and nerve problems. However, it does not say all kidney disease patients can not drink it. For patients without high phosphorus level, they are able to drink milk moderately to supplement necessary nutrients.
As a whole, it chiefly depends on your special condition to drink milk. If you doubt whether milk is good for you or not, you can send your lab tests to kidneycares@hotmail.com. And we will give the answer according to your own conditions.