Chronic Kidney Disease Diet during Christmas
2013-12-14 17:00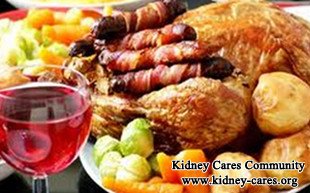 Christmas is a grand festival in western countries.As a person with chronic kidney disease,you need to pay more attention to your diet during Christmas.A healthy and balanced diet can help you spend the festival happily and safely.The following are some dietary tips for people with chronic kidney disease during Christmas.
High-fat foods
The renal patients should limit foods high in fat.Turkey is a traditional dish on Christmas.When eating it,you should take off the skin from turkey and other poultry foods. If you want to eat dessert, you should choose a kidney-friendly treat, such as fruit pie, pound cake.
Protein
Protein is an important source of energy in body.If you have not adequate protein consumption,it is very likely to cause malnutrition and weak immunity.However,as a chronic kidney disease patient,you should develop a low-protein diet. Meanwhile,more than half of protein consumed is high-quality protein like egg white, milk,fish,lean meat etc.
Potassium
Impaired kidneys fail to remove potassium from body adequately.High levels of potassium in body can be very dangerous and even life-threatening. Therefore, a person with chronic kidney disease should cut down foods high in potassium in their diet. you can leach vegetables before cooking them like potatoes.
Salty foods
At Christmas, if you consume too much salt, it can make you thirsty so you will drink too much fluid. If excess fluid builds up in body, it can make your next dialysis treatment difficult.
Phosphorus
Foods high in phosphorus should be limited and even avoided for people with chronic kidney disease at Christmas.High levels of phosphorus can cause bone problem and skin itching. Meanwhile, you should take phosphate binders before meals which can help reduce the absorption of phosphorus from what you eat.
The above are some general diet tips for people with chronic kidney disease at Christmas. You can email to kidneycares@hotmail.com for more personalized diet suggestions.