What Diet Can Lower Potassium Level in CKD
2013-09-25 11:50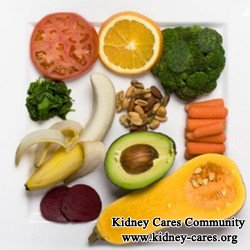 High potassium level commonly occurs in chronic kidney disease (CKD).If potassium level in blood is too high, it can be dangerous and even life-threatening.Diet is an important part to controlling the level of potassium in body. What diet can lower potassium level in CKD? Read on.
Functions of potassium in body
Potassium is an important mineral in body and it can control nerve and muscle function.Heart is one very important muscle and it can beat regularly because of potassium.In right condition, the potassium levels in blood keeps at between 3.5 and 5.5 mEq/L.
Why does high creatinine level occur in CKD?
Kidneys are a pair of important excretory organs in body and they can filter out extra potassium from body in right condition. However,when kidneys are impaired,extra potassium will accumulate in blood, thus resulting in high creatinine level.If the creatinine level is high,the CKD patients will experience the following signs and symptoms.
*Muscle weakness
*Numbness or tingling
*Irregular heartbeat,heart failure and even sudden death
What diet can lower potassium level in CKD?
*You should limit foods that loaded in potassium.You should consult with a renal dietitian and decide the acceptable potassium intake each day.Limit milk and milk products or replace with nondairy substitutes.Common fruits high in potassium include kiwi,dried fruits,avocados,honeydew etc. Vegetables like sweet potatoes,winter squash,artichoke, pumpkin, spinach etc should also be limited and even avoided.
Email to kidneycares@hotmail.com to get a list of foods high in potassium which you should avoided.
*If you include vegetables high in potassium in CKD diet,you should leach them before eating them.Leaching can remove some of the potassium from foods.
The above are recommended diet to lower potassium in CKD. If you want to get other dietary suggestions for CKD, you can leave a message below.