Is Garlic Good to People with CKD
2013-09-15 11:41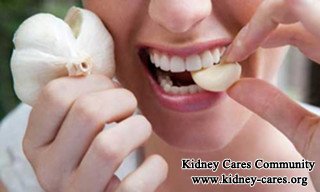 If you are living with chronic kidney disease (CKD), especially in the advanced stage,you have to keep on a restricted diet. Is garlic a good option for you?
Garlic is used as a good preservative and is also used in a variety of recipes. It is also a remedy for indigestion. It is also a good food option for people with CKD.
Although garlic can neither prevent or cure kidney disease,they can still benefit CKD and Dialysis patients in very significant ways.It can lower cholesterol to reduce the risk of cardiovascular disease and heart disease.Also,it can reduce inflammation in kidneys.
The patients with CKD have to limit and even avoid salt and sodium in their diet.Garlic can be used as a welcomed substitute for salt to flavor your cooking.
However,it is not a good food option for renal patients. You can consult with our online doctor to ask if you can choose it.
Like garlic, ginger is also a good option for people with CKD on dialysis. Its benefits against indigestion and nausea can help dialysis patients when they are experiencing these symptoms.
Besides ginger and garlic, the patients with CKD also can add the following foods in their diet.
Red bell peppers
Red bell peppers are low in potassium and high in flavor. Also these vegetables are an excellent source of vitamin C and vitamin A, as well as vitamin B 6, folic acid and fiber.
Berries
All kinds of berries are good fruits for people with CKD.Some natural compounds in the fruits can reduce inflammation in kidneys.Also the fruits are an good source of vitamin C, manganese etc.
Apples, red grapes, egg white etc are also recommended to people with CKD. If you want a list of recommended foods for CKD, you can email to kidneycares@hotmail.com .