Herbal Tea For Kidney Disease
2013-08-09 14:29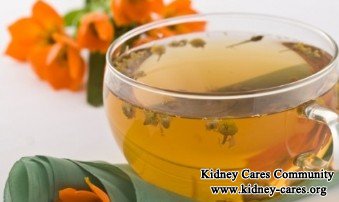 Kidneys are important organs in our body. They perform the important task of filtering wastes and toxins out of the body. Thereby, it is necessary for us to keep them in a good condition. The nature has given us many herbs, which contribute to improve kidney function. Herbs sometimes can even heal injured kidneys. Herbal tea is a herbal beverage, which can be taken to repair our injured kidneys.
Alfalfa tea
Kidney disease patients usually have the following symptoms, including: edema, poor appetite, vomiting or nausea and anemia. In this light, patients with these symptoms can drink Alfalfa tea properly. In traditional Chinese medicine, Alfalfa tea is used for treating Chronic Kidney Disease (CKD), that is because Alfalfa tea has the function of treating edema and enhancing stomach function, which will alleviate edema, anemia and improve your appetite partly. Besides, Alfalfa tea acts as a detoxification beverage, eliminating toxins from the kidneys and improving the health of kidneys, which can also alleviate your itchy skin and improve your appetite.
Celery seed tea
Celery is used for diuresis naturally. Tea made with celery seed could help remove wastes and toxins from the body by increasing urination.
Java tea
Java tea is made from leaves and stalks of the orthosiphon or the cat's whiskers plant and is a popular herbal tea for kidney disease in Southeast Asia. This brownish green colored herbal tea increases urine formation, dissolves kidney stones and removes uric acid. In this case, Java tea also alleviates kidney disease symptoms such as edema, vomiting and itchy skin.
Watermelon seed tea
This tea is made from watermelon seeds and is recommended for curing kidney stones. In preparation for this tea, you should pour a cup of boiling water over two teaspoons of ground watermelon seeds and steep for about five to ten minutes. Taking this beverage three times a week can alleviate your kidney problems.
The above are some common herbal tea for kidney disease and can delay its progression effectively. However, you should drink herbal tea in a proper way and drink it according to your own illness conditions. Only in this case can herbal tea be used for the highest good.
Get free online analysis for your illness condition here. Choose any of the following tools to start instant communication with our experts.
Leave Message
Leave your problem to us, we are here to help you with free charge!