Is Chayote Good for Patients with Chronic Kidney Diseases
2013-06-12 09:27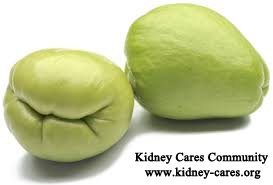 Chayote is indeed a very good vegetable choice for patients of chronic kidney disease and it has many healthy benefits. However at the same time not every CKD patients should have uncontrolled intake of chayote because of its high content of water and potassium. After reading the article, you can know whether it is good to eat chayote if you are CKD patients according to your specific illness conditions.
First we will talk about the health benefits that chayote can bring to kidney disease patients. Chayote is also called vegetable pear and 94% of its total constitution is water, therefore it is very good for losing body weight, but for those that have severe edema, they need to have less chayote because the water in chayote is also counted as fluid intake which they should have strict control to help ease the retention of fluid in the body.
Chayote is very low in sodium content and it is nearly fat-free, therefore it is an ideal food for those that have high blood pressure, kidney disease, heart problems or stroke. Chayote is also rich in dietary fiber which can help lower blood cholesterol levels and help control high blood sugar levels for diabetic patients. The fibers in chayote can also help promote the digestion and ease constipation because some CKD patients may suffer from constipation and other digestive and gastrointestinal disorders.
Chayote is a natural supplement of vitamin K which helps prevent bone loss and osteoporosis. It also contains magnesium which helps prevent and treat muscle cramp which is very common among CKD patients and dialysis patients.
Eating chayote is not only good for the kidneys, it can also help enhance thyroid healthy and it is good for the heart and brain.
As has been mentioned above, chayote contains high amount of water and potassium. Therefore for CKD patients that have developed severe swelling and those that have potassium disorder, more cautions should be paid and it is better to consult a doctor to see if it is suitable for you to have chayote or you should just limit the amount.
Our Treatment Effect
High creatinine level is dangerous to a kidney patient
Move the mouse to enlarge the picture
If you also want to reduce your high creatinine level, please look at this patient's report. When he was just hospitalized in our hospital on Dec 11, 2018,
His creatinine:1028umol/L,
urea: 39.7mmol/L
UA : 513umol/L
After a period of our treatment,
his creatinine:331umol/L, urea:16.1mmol/L
UA :325umol/L on Jan 5, 2019.
His condition was getting better and better. You can also get better.
For a CKD patient, you can choose Chinese medicine treatments to control your condition. your creatinine level can be reduced radically, symptoms can be alleviated and more importantly, your renal function will be improved. In this way, you can stay away from end stage kidney disease and avoid dialysis.