Magnesium and Kidney Disease
2013-05-23 15:51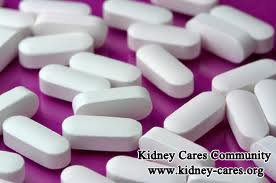 Magnesium is helpful for many health issues such as heartburn, constipation, etc. However it is recommended that kidney disease patients should avoid or at least have more cautions and have the doctor's permission and guidance before starting to take magnesium supplement.
This is because excess magnesium needs to be filtered and released into urine by the filtration of the kidneys. If renal functions are already impaired, too much magnesium will definitely increase burdens and strains to the kidneys and cause worsening of renal damages.
Besides, long term use of over-the-counter magnesium can cause a series of problems for kidney disease patients. Extra magnesium worsen the symptoms of kidney disease such as proteinuria, it can also increase the risk of developing kidney stones.
Long term intake of magnesium can cause the kidneys to function improperly and leak abnormal proteins in urine, fluid retention and swelling in the abdomen, feet, legs and other parts of the body. Consult your doctor and stop taking magnesium or gradually reduce the dosage to see if there is any improvements of proteinuria and swellings.
Taking magnesium can increase the risk of developing kidney stones. If you take too much magnesium and the impaired kidneys can not filter them through urination, magnesium will accumulate in the glomeruli and become crystallized. Small stones can be discharged with urine, but it can cause sharp pain or even bleeding. If the stone is too large, additional treatment will be needed such as surgery removal of the stone.
Besides magnesium metabolic disorders, kidney disease patients will have a series of imbalances and disorders in their internal environment such as acid-base disorder, calcium-phosphorus disturbance, metabolic disorders of protein, sugar and fats, etc. Therefore it is necessary to have regular blood test so as to have early detection of any abnormalities and seek proper measurements as soon as possible.
Our Treatment Effect
High creatinine level is dangerous to a kidney patient
Move the mouse to enlarge the picture
If you also want to reduce your high creatinine level, please look at this patient's report. When he was just hospitalized in our hospital on Dec 11, 2018,
His creatinine:1028umol/L,
urea: 39.7mmol/L
UA : 513umol/L
After a period of our treatment,
his creatinine:331umol/L, urea:16.1mmol/L
UA :325umol/L on Jan 5, 2019.
His condition was getting better and better. You can also get better.
For a CKD patient, you can choose Chinese medicine treatments to control your condition. your creatinine level can be reduced radically, symptoms can be alleviated and more importantly, your renal function will be improved. In this way, you can stay away from end stage kidney disease and avoid dialysis.