Is Celery Safe for Kidney Disease
2013-04-08 11:09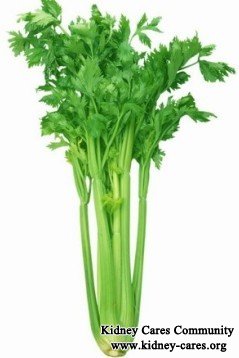 Celery has great health benefits, for instance, it helps to lower blood pressure and also might be effective in combating cancer. Therefore, celery is one of the much-loved vegetables in our daily life. However, some people said celery is not safe for kidney disease patients. Is that true? If yes, how celery affect patient's illness condition?
For a healthy individual, celery is stunning, because of its abundant vitamins and minerals like vitamin B1, B2, B6, C, potassium, folic acid, calcium, magnesium, iron, phosphorus, sodium, and plenty essential amino acids and so on. All these nutritions play an important role for one's body to function properly. However, for people with kidney disease, damaged kidneys fail to keep balance of electrolyte, which can result in high potassium in blood, high sodium in blood and high phosphorus in blood. Therefore, for people with kidney disease, they need to eat less celery; otherwise, their physical condition and illness condition will be affected seriously.
High potassium level in blood: potassium is one of the common trace elements of our body and is normal kept in a stable range (3.5-5.4 mmol/L). For kidney disease patients who have high potassium level, their potassium level in blood will become higher, which may bring them lots of health problems like arrhythmia, digestive problems, muscular fibrillation and myalgia and so on.
High sodium level: Almost all the kidney disease patients are suggested to limit salt intake because salt is high in sodium. High sodium level not only elevates blood pressure, but also cause fluid retention which is always manifested as edema. Since celery is rich in sodium, it is necessary for kidney disease patients to eat less celery.
High phosphorus level: Phosphorus level in blood has close relationship with calcium level. For kidney disease patients, extremely high phosphorus level will prevent their body from reabsorbing enough calcium and thus cause bone problems like bone pain and bone fracture. Therefore, for kidney disease patients, especially children with high phosphorus, eating less celery is very beneficial.
Celery is nourishing vegetable and safe for healthy people. However, because of the special illness condition, it is not safe for some kidney disease patients. Therefore, it is necessary for kidney disease patients to get the permission of their doctor before they eat celery.
Our Treatment Effect
High creatinine level is dangerous to a kidney patient
Move the mouse to enlarge the picture
If you also want to reduce your high creatinine level, please look at this patient's report. When he was just hospitalized in our hospital on Dec 11, 2018,
His creatinine:1028umol/L,
urea: 39.7mmol/L
UA : 513umol/L
After a period of our treatment,
his creatinine:331umol/L, urea:16.1mmol/L
UA :325umol/L on Jan 5, 2019.
His condition was getting better and better. You can also get better.
For a CKD patient, you can choose Chinese medicine treatments to control your condition. your creatinine level can be reduced radically, symptoms can be alleviated and more importantly, your renal function will be improved. In this way, you can stay away from end stage kidney disease and avoid dialysis.