Is Renal Biopsy Suitable For All CKD Patients
2016-08-21 08:16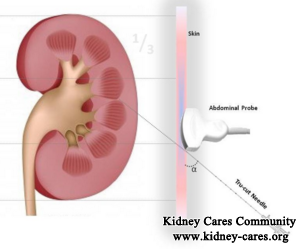 There are many types of kidney diseases. Different kidney disease has different treatment but its clinical manifestations are similar. Currently, renal biopsy is one common test for diagnosing kidney disease type. However, is kidney biopsy suitable for all kidney disease patients?
In the following conditions, renal biopsy should not be done.
Solitary kidney
Obvious bleeding tendency
Severe high blood pressure
Mental disease
Incorrect posture
Kidney infection
Kidney cancer
The position of kidney is higher
Chronic kidney failure
If you have the above conditions, you had better not take kidney biopsy, otherwise it can be dangerous.
Is there any side effect from renal biopsy?
1. Blood in urine
Almost all patients will suffer from microscopic hematuria. Microscopic hematuria can disappear spontaneously. If the urine color is dark or near to blood color, it indicates lots of blood loss. Blood pressure reduce can occur at any time. Timely treatment is necessary.
2. Perirenal hematoma
Perirenal hematoma has a higher incidence rate and it is characterised by asymptomatic small hematoma. This requires no treatment. As for large large hematoma, you need to limit your activity and treatment is necessary in some cases.
3. Arterio-venous fistula
In renal biopsy, it can connect your renal arteriovenous directly. Generally it has no symptoms. It can close on its own. You can take arterial embolization.
Renal biopsy does not suit for every kidney patient. Sometimes it is dangerous and even causes further kidney damage. In our hospital, we have some special checkups to diagnose your condition clearly such as diagnosis for kidney structure and function, cell biology localization diagnosis for cell and cell subset, biochemical localization diagnosis for blood toxins and intracellular toxins. We have more than twenty test technology ahead of peers. Without exact diagnosis, we do not give you medicines. And these checkups in our hospital are not only exact but also cause no side effects. They can set up a good foundation for your treatment.
Our contact information is kidneycares@hotmail.com or phone number 008618330110929. We try our best to help you.
Tag: CKD CKD diagnosis
next:none