What Are Important Laboratory Values To Monitor In CKD Management, Besides GFR
2015-12-02 07:26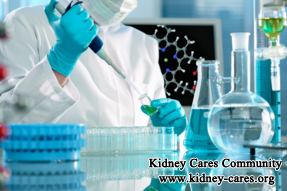 Besides GFR (Glomerular Filtration Rate), there are some other important laboratory value to monitor in chronic kidney disease (CKD) management. They are serum creatinine level, blood urea nitrogen (BUN) level, urine test and creatinine clearance. The following will give you the detailed information.
1. Serum creatinine level
Creatinine is a waste that comes from meat protein in the diet and also comes from the normal wear and tear on muscles of the body. Creatinine levels can change, and each laboratory has its own normal range. In many labs, the normal range for creatinine level is 0.6-1.2mg/dL. A higher level of creatinine is a sign of kidney problem. As kidney disease progresses, the level of creatinine in the blood will increase as well.
2. BUN level
Urea nitrogen is also produced from the breakdown of food protein. A normal BUN level is between 7 to 20mg/dL. As kidney function declines, BUN level increases.
3. Creatinine clearance
A creatinine clearance measures how well creatinine is removed from your body by your kidneys. This test gives better information than a blood creatinine test on how well your kidneys are working. It is done on both a blood sample and on a sample of urine collected over 24 hours. The normal range for blood creatinine is 0.6-1.2mg/dL or 53-106mcmol/L in men and 0.5-1.1mg/dL or 44-97mcmol/L. And the normal range of creatinine clearance is 1.8-2.3ml/sec or 107-139ml/min in men and 1.5-1.8ml/sec or 87-107ml/min in women. Besides, creatinine clearance values normally go down as you get older.
4. Urine tests
A 24 hour urine test shows how much urine your kidneys produce in one day. The test also give an accurate measurement of how much protein leaks from the kidney into the urine in one day.
The above are some laboratory values to monitor in CKD management, besides GFR. If you are diagnosed with kidney disease, you should take timely treatment. A natural and effective treatment should be Micro-Chinese Medicine Osmotherapy. This therapy can repair injured kidneys and improve kidney function naturally. When kidney function is improved, creatinine level, BUN level, urine test level and creatinine clearance all can become normal. About the detailed information, you can leave us a message below or consult our online doctor directly.