What Blood Test Show In Kidney Problems
2015-02-12 01:50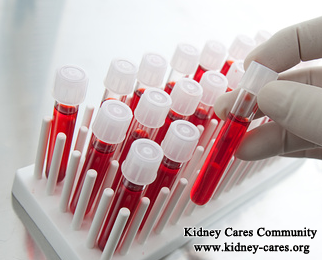 Early kidney disease usually does not have signs or symptoms. Testing is the only way to know how your kidneys are doing. What blood test show in kidney problems?
When kidney function decreases, substances such as urea, creatininine and some electrolytes begin to accumulate in the blood. The following blood test is to show how well your kidneys are working.
1. blood creatinine test
Blood creatinine test is to help estimate the glomerular filtration rate (GFR) by measuring the level of creatinine in your blood. GFR tells how well the kidneys are working and which stage your kidney disease is.
2. blood urea nitrogen (BUN)
This test measures how much nitrogen from the waste product urea is in your blood. When kidneys cannot work well enough to remove urea from the blood, BUN level rises.
3. blood glucose test
A blood glucose test is done to measure the blood sugar. High blood sugar levels can damage blood vessels in the kidneys.
4. blood test for parathyroid hormone
A blood test for parathyroid hormone is used to check PTH level, which helps control calcium and phosphorus levels.
5. tests for wastes and electrolytes
Blood tests measure levels of waste products and electrolytes in your blood that should be removed by the kidneys.
Blood test can help uncover signs of early kidney disease and monitor the condition. Urine test is usually done together with blood test. If you want to know more tests to check for kidney disease, you can check with our online doctor or leave a message below.