Colonoscopy Preparation for Kidney Disease
2014-03-07 10:13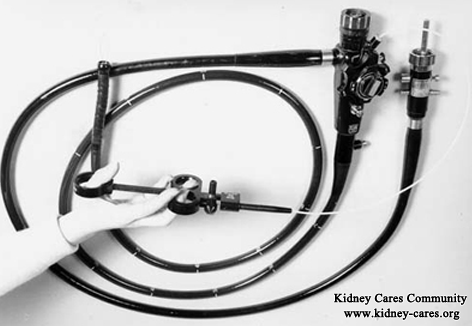 Colonoscopy describes that people do the examinations of colon to know if there is bleeding, inflammation and ulcers in colon. Colonoscopy preparation is very necessary for colonoscopy, the goal of which is to get wastes out of colon. Thus, it is convenient for patients to have a clear view of conditions in colon. Nevertheless, Colonoscopy preparation has side effects on patients, which can cause kidney disease. Here we will talk about kidney disease caused by Colonoscopy preparation.
In colonoscopy preparation, doctors use some drugs to cleanse colon. However, these drugs contain sodium phosphates and polyethylene glycol, which are harmful for kidney and possible to cause kidney disease. Because sodium phosphate can lead to phosphate crystal buildup in kidneys, which does harm to kidney tissues and kidney function. Besides, polyethylene glycol can cause imbalance of fluids and electrolyte, which causes kidney problems. If patients with colonoscopy preparation have already had kidney problems, serious and constant kidney damage may be caused. Thus, patients with kidney problems must tell doctors their medical history before colonoscopy preparation. Besides, some symptoms will occur when colonoscopy preparation leads to kidney disease, as following:
1. Value of urine can decline.
2. There is swelling in legs and ankles.
3. Patients feel very hard to breathe.
4. Weight gain can occur in short time.
Apart from kidney problems, colonoscopy preparation may cause nausea, vomiting, stomach cramps, dehydration and rectum problems.
When people do colonoscopy preparation, they must talk with gastroenterologists about their medical history and medicines they take, including: aspirin, nonsteroidal anti-inflammatory drugs, blood thinners. diabetes medications, etc. After this, doctors can judge if patients are fit for colonoscopy preparation or not. Besides, as cleanser is the key to causing kidney disease, now there are some alternative substitutes for cleanser in colonoscopy preparation like magnesium citrate,but safety of these substitutes isn't very solid. If you want to know more, please contact us directly and we are very glad to answer your questions.