How Fast Will Chronic Kidney Disease Progress
2013-04-22 09:29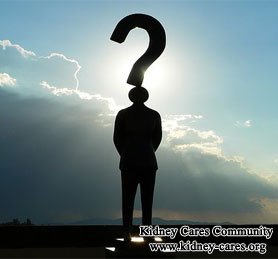 Chronic Kidney Disease is terrible and life-threatening illness, because it progresses as time goes by and when it deteriorates to end stage, dialysis or kidney transplant will be needed. Hence, when an individual is diagnosed with Chronic Kidney Disease, he will be eager to know how fast Chronic Kidney Disease will progress and when dialysis will be needed.
How fast will Chronic Kidney Disease progress?
Chronic Kidney Disease refers to the progressive loss of kidney function and can be divided into 5 stages according to Glomerular Filtration Rate. With illness condition in different stages, patients will suffer from different symptoms like proteinuria, high blood pressure, hematuria, anemia and so on. With the deterioration of illness condition, these symptoms will become more and more serious. Clinical date shows the average progression rate of Chronic Kidney Disease is 3% and for patients with proteinuria and hematuria, it is 5%.
Although there is an average progression rate of Chronic Kidney Disease, the real situation is greatly different from individual to individual. In some cases, patients may suffer from acute kidney failure when there are aggravating factors like cold and infection. Aggravating factors accelerate illness progression and push patients into dialysis or kidney transplant early.
When dialysis will be needed by Chronic Kidney Disease patient?
Dialysis is a medical procedure in which blood is induced out of patient's body and filtered by a dialysis machine. Generally, dialysis is recommended by doctors when Chronic Kidney Disease progresses to end stage (stage 5).
Kidneys are in charge of discharging toxins and when kidney function is affected, toxins pile up in blood. For patients with Chronic Kidney Disease in advanced stage, there are lots of toxins in their blood. These toxins circulate with blood and may damage any part of their body. Creatinine is one of the toxins produced by our body and the level of it in blood is always used to reflect how much toxins there are in the blood. In theory, dialysis is required when creatinine level increases to 5. However, in reality, many Chronic Kidney Disease patients do not start dialysis if they have no serious complications like nausea, vomit, ithcing skin and heart problems, even if their creatinine increases to the level higher than 5.
Dialysis is an option when Chronic Kidney Disease progresses to end stage, but it is not an long-term solution, as it can not repair kidney damages to improve kidney condition. For people with Chronic Kidney Disease in advanced stage, Immunotherapy can be a preferable option.
Get free online analysis for your illness condition here. Choose any of the following tools to start instant communication with our experts.
Leave Message
Leave your problem to us, we are here to help you with free charge!