Can Arthritis Cause Chronic Kidney Disease
2015-08-04 02:04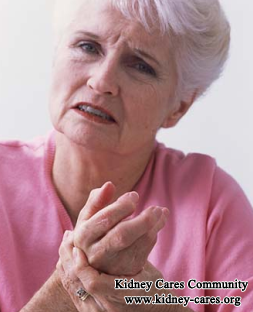 Can arthritis cause chronic kidney disease (CKD)? Arthritis has many health consequences and mounting evidence suggests that an increased risk of kidney disease is one of them.
1. How does arthritis affect the kidneys?
According to a 2014 Mayo Clinic study, people with arthritis have a one in four chance of developing kidney disease compared with a one in five chance for people who do not have it. One type of kidney disease in patients with arthritis is amyloidosis. In this condition, a special type of protein gets deposited that leads to kidney failure. Arthritis patients may also have other types of kidney disease. Most patients with arthritis and kidney disease do not undergo a kidney biopsy. Among patients who did get biopsies, a variety of renal diseases have been found, including amyloidosis, membranous glomerulonephritis and other glomerular diseases.
2. Arthritis and kidney
Experts believe that arthritis increases the risk for kidney disease in two main ways.
Inflammation
Overall inflammatory burden of the disease contributes to kidney dysfunction. The more severe your disease, the higher your risk of poor kidney function.
Medications
Most of the medications you take for arthritis are not directly toxic to the kidneys. But some can cause problems if you already have reduced kidney function.
NSAIDS such as ibuprofen and naproxen, usually do not pose a problem for relatively healthy people. However, all NSAIDS reduce blood flow to the kidneys. This could be dangerous for those with reduced kidney function.
Corticosteroids such as prednisone cause fluid retention, which can raise blood pressure. Overtime, this can worsen kidney disease.
Methotrexate. This disease-modifying anti-rheumatic drug (DMARD) is removed through the kidneys. If your kidneys are not working as well as they should be, the drug will build up in your bloodstream, potentially causing an overdose.
Having arthritis increases the risk of potentially serious kidney disease. Thus, once you suffer from arthritis, you should treat it timely so as to avoid renal disease. If you want to know how to treat arthritis, you can leave a message below or email us to kidneycares@hotmail.com. We will reply you as soon as possible.
Our Treatment Effect
High creatinine level is dangerous to a kidney patient
Move the mouse to enlarge the picture
If you also want to reduce your high creatinine level, please look at this patient's report. When he was just hospitalized in our hospital on Dec 11, 2018,
His creatinine:1028umol/L,
urea: 39.7mmol/L
UA : 513umol/L
After a period of our treatment,
his creatinine:331umol/L, urea:16.1mmol/L
UA :325umol/L on Jan 5, 2019.
His condition was getting better and better. You can also get better.
For a CKD patient, you can choose Chinese medicine treatments to control your condition. your creatinine level can be reduced radically, symptoms can be alleviated and more importantly, your renal function will be improved. In this way, you can stay away from end stage kidney disease and avoid dialysis.