Questions And Answers For Kidney Disease
2015-07-30 02:58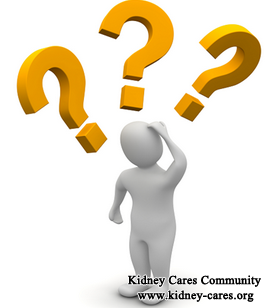 I found that many patients have no knowledge to kidney disease. Actually they need to know some basic information of their disease. The following are something they should know.
1. How does kidney disease occur?
A large number of pathology analysis showed that kidney disease has closely relation with immune complexes. In addition to immune complexes, hypertensive renal arteriolar sclerosis and hydronephrosis can both cause kidney damage.
What are immune complexes?
Immune complexes refer that antibodies and antigens combine together to form a kind of complex, also called antibody-antigen complex.
These immune complexes will flow through the kidneys with blood and be filtered by glomeruli, then discharged out of the body. If infection occurs and leads to a lot of immune complexes. Kidneys fail to remove them. Under such a condition, immune complexes will deposit in kidneys.
2. How to treat kidney disease?
At present, the treatment for kidney disease is to prevent inflammation, alleviate swelling and lower high blood pressure, etc. Steroids, hypotensive medications and diuresis are the most common therapies for kidney disease. The advantage of these therapies is quick effect but the disadvantage is easy to relapse.
Why does relapse occur?
Inflammation prevention, diuresis, apocatastasis or antihypertensive drugs all do not work on immune complexes. If immune complexes do not get timely removed, inflammation will appear again.
3. Is dialysis a must for kidney failure patients?
Dialysis is often to be seen in end stage renal disease. It is one of the remedies to purify blood. Dialysis mainly cleanses small molecular substances in blood like creatinine and reduces toxins damaging to the body.
Simply speaking, since kidneys are damaged, toxic and harmful substances cannot be excreted out of the body. These toxic and harmful substances will do damages on other systems. To reduce the damage, dialysis is used to replace kidneys to discharge toxins. Dialysis can reduce toxic and harmful substances damaging kidneys. However, long-term of dialysis will speed up the decline of kidney function.
4. Is kidney transplant a complete remedy for kidney disease?
Most patients know dialysis cannot treat kidney disease so they put their hopes on kidney transplant. Unfortunately, even if the surgery is successful, they also need to take steroids, immunosuppressor and even dialysis to sustain them.
But why?
Because kidney transplant is usually done in uremia stage, at this time there are lots of toxins and these toxins will invade various organs an systems, causing multisystem damage. Under such a condition, kidney transplant does not have any improvement on the bad inner environment. Toxic and harmful substances in the body will do damage on the new kidney.