Can Dehydration Cause Your Kidney Function To Drop
2014-05-18 08:37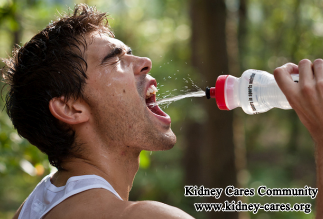 There are many things that can lead to the kidneys not to work properly. Can dehydration cause your kidney function to drop? It does can damage your kidneys. So in what case dehydration cause kidney damage?
How does dehydration cause your kidney function to drop?
Kidneys can become damaged if they are not getting good blood flow. This can happen if you become dehydrated or seriously ill. Severe dehydration can lead to a drop in your blood pressure. This can cause reduced blood flow to your vital organs. Blood circulation will be blocked and there will be build up of wastes and toxins in your body. Kidney functions will be affected due to inadequate blood supply to renal cells and renal tissues. In this case, if dehydration is not treated, kidney failure can occur.
How to prevent kidney function drop from dehydration?
First you should avoid dehydration. Good fluid intake is important. Fluid containing caffeine will cause further dehydration. If you have nausea, vomiting or diarrhea, you will be losing a lot of fluid. You may need to get fluid through and IV to prevent dehydration and then avoid kidney damage.
If you have dehydration and kidney disease, your creatinine level will be worsened. Healthy kidneys will dispose excess creatinine out of the body and keep creatinine level in a normal range. When they are damaged, creatinine will pile up in your blood. This causes elevated creatinine level. Dehydration is also a factor of high creatinine level. In view of this, kidney disease people with dehydration will have more higher creatinine level. Dehydration will lead to high creatinine levels and kidney damage.
In a word, avoid dehydration to prevent kidney function decline. If you have any doubts on this topic, you can leave us a message to kidneycares@hotmail.com or consult our online renal experts directly. And we will reply you as soon as possible.