Can Antiperspirants Cause Kidney Disease
2014-04-29 08:19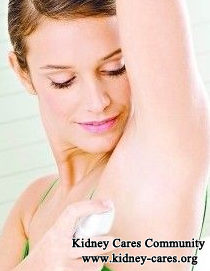 Some people have consulted us that if antiperspirants can cause kidney disease, in recent days. Antiperspirants are widely used to prevent sweating, avoiding some bad smells, especially for women. Then can it cause kidney disease? Now see the below:
Have a knowledge of antiperspirants
Antiperspirants are made to eliminate bad smells caused by sweating. The theory of it is to use aluminum-based compounds to plug in sweating ducts, preventing sweating in our body.
See if it can lead to kidney disease
According to research by experts and scientists, there is no much relation between kidney disease and antiperspirants. But for patients with kidney disease, they should avoid antiperspirants because much aluminum is also removed from body through kidney, if kidney has something wrong, much aluminum can put more burdens on kidney, causing further kidney damage.
Thus, patients with kidney disease are not suggested to take antiperspirants in daily life.
Besides, as research shows, too much aluminum can result in Alzheimer's Disease which can do harm to our brains very much.
Apart from antiperspirants, many other medicines should also be consulted with doctors or experts, and they should not take medicines on their own. In the similar way as medicines, diet in daily life for patients with kidney disease need to be taken notice of, too. Low protein, low phosphorus, low salt and low potassium should be followed strictly. As for water, if swelling occurs very obviously, water intake must be limited.
Finally, antiperspirants can not be proved to cause kidney disease, but it can aggravate kidney disease. No matter diet or medicines, patients with kidney disease should ask doctors or experts for advice before eating. If you have any question or want to get more information about kidney disease, just contact us freely any time.