What Are Risk Factors For Kidney Dysfunction In Children
2014-04-29 02:14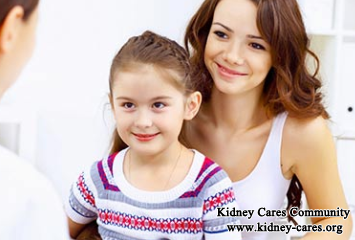 What causes children suffering from kidney disease? Nowadays, more and more children have kidney disease. When parents hear their child has kidney disease, they may want to know the factors for kidney dysfunction in Children.
Below are details about some of the common risk factors of kidney disease in children. Children's kidney problems typically deprive from one of the following:
1. Urinary Tract Infection (UTI)
When bacteria get into the urinary tract, an infant or child develops a urinary tract infection. The infection will affect the kidneys as well. In this condition, the UTI is known as pyelonephritis. A more serious infection will lead to scarring and permanent kidney damage. When the UTI involves the kidneys, children or infant may suffer from fever and back pain.
2. Birth defects and blockages
In some cases, children with kidney disease are born with a condition that causes the urethra to narrow or become blocked. Moreover, another kidney disease, called fetal hydronephrosis, can be suffered by the child who is in the womb, during infancy or in childhood. In this condition, one or both of the kidneys may be narrowed or enlarged.
3. Reflux disorder and UTIs
After a child has a UTIs, reflux is often diagnosed. Reflux can cause an infection to spread to the kidneys. This can be serious and may cause kidney damage.
Nephrotic Syndrome usually appears in children aged 6 months to 5 years, although this disease can occur in people of any age. Also this disease often occurs for the first time after a child have a cold or infection.
5. Obesity
Obese children have larger kidneys than their normal weight counterparts.
Birth defect, urinary tract infection, reflux disorder, nephrotic syndrome and obesity or overweight can all lead to kidney disease in children. Early diagnosis of kidney disease decreases life-threatening complications, boost healthy development and may delay the disease's progression. Of course, other factors can also lead to kidney disease in children, like polycystic kidney disease, multicystic kidney disease and nephritis. If you want to know the detailed information about risk factors for kids suffering from kidney disease, you are welcome to leave a message to kidneycares@hotmail.com or have a talk with our online doctor directly.