What Kinds Of Nuts Are Bad For Someone With Kidney Stones
2014-12-28 07:07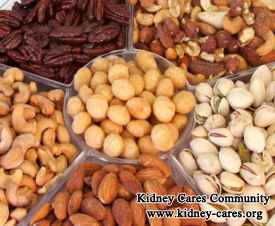 Kidney stones can be painful to pass and they may eventually cause kidney failure, so it is important to do what you can to prevent them. Can kidney stone patients eat nuts?
Nuts are nutrient-dense choices, but they may be harmful if you are at risk for kidney stones.
Nuts with high protein
Too much protein can increase your risk for kidney stones. Kidney stones have four primary types including calcium oxalate, cystine, struvite and uric acid. Of the four, only uric acid stones are principally caused by excessive consumption of protein. Among the true nuts, almonds, pistachios and sunflower seeds have the highest amount of protein. Therefore, for someone with kidney stones, they should avoid high protein nuts.
Nuts with oxalate
If you tend to develop calcium oxalate stones, you may need to limit your intake of foods with oxalates. Nuts are high in oxalates and are excluded from this diet. You might need to take low oxalate alternatives such as avocados for their fiber and healthy fats.
Nuts with high sodium
It is suggested that lowering your sodium intake to reduce your risk of kidney stones. Nuts are naturally low in sodium or nearly sodium free. Salted nuts or nut butters are slightly higher in sodium. In addition to lowering your risk for kidney stones, a low sodium diet also is good for a healthy blood pressure and decreasing your risk for heart disease and stroke.
Improper nut intake is bad for you with kidney stones. Therefore, before eating nuts, you had better consult your doctor or leave a message to kidneyares@hotmail.com. We will give you a diet plan according to your own medical conditions.