Moderate Wine Consumption Can Reduce The Risk Of Kidney Stone
2014-12-20 02:24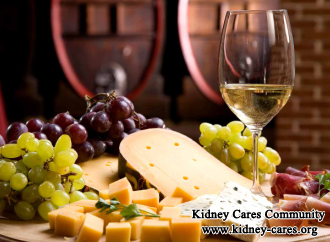 Wine and health is an issue of considerable discussion and research. Wine has a history of use as an early form of medication and as a cure for a wide range of ailments including diarrhea, lethargy and pain from child birth. Well, can moderate wine consumption reduce the risk of kidney stone?
Yes, moderate wine consumption can reduce the risk of kidney stone. Researches have shown that people consuming moderate wine regularly have a lower risk of suffering from kidney stone.
Health benefits of moderate wine consumption
Wine has the function of invigorating the circulation of blood and can increase the amount of high-density lipoprotein-cholesterol in blood. Drinking wine properly can increase the blood perfusion of kidneys and reduce the deposition of cholesterol on glomerular capillary. Anthocyanin and tannin and other polyphenols in wine can eliminate reactive oxygen and remove the peroxide in blood. Besides, the resveratrol is able to anti-cancer and anti-platelet aggregation. Therefore, moderate wine consumption has benefits to kidneys and the body. However, if your liver function is not good, you had better not drink wine.
Lower the risk of kidney stone
Germany scientists found out that moderate wine consumption can prevent kidney stone. People who drink wine moderately and regularly are 36% less likely to have a kidney stone than nondrinkers.
Apart from preventing kidney stone, moderate wine consumption also have other benefits:
1. reduce heart-attack risk
moderate drinkers suffering from high blood pressure are 30 percent less likely to have a heart attack than nondrinkers.
2. lower the risk of heart disease
red wine tannins contain procyanidins, which protect against heart disease.
3. prevent type-2 diabetes
moderate drinkers have 30 percent less risk than nondrinkers of developing type 2 diabetes.
Always remember to drink wine moderate. If you drink it too much, it will cause damages on your body. If you have any question, please contact our online doctor.