Does Eating Too Much Raw Spinach Lead To Kidney Stone
2014-09-23 03:17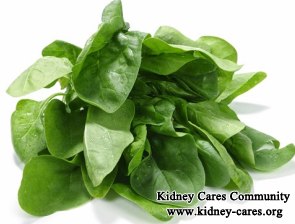 Spinach has so many benefits. Leafy greens like spinach provide some nutrients than any other food. However, eating too much raw spinach is also bad for your health. Eating too much spinach can cause kidney stones.
Why does eating too much raw spinach lead to kidney stones?
Many foods contain oxalates, but leafy greens, such as spinach contain very large amounts of them. It has been the practice of health practitioners to recommend that people who are more likely to kidney stones should be careful about consuming high oxalate food. Oxalate found in urine combines with calcium to form calcium-oxalate kidney stones. Therefore, the doctor may advise you to avoid or limit intake of foods that contain high amounts of oxalate. In this way, the risk for kidney stones may be reduced.
However, if you eat raw spinach properly and moderately, you can get the following benefits from spinach.
1. Heart protection
Spinach is a heart healthy food. It is rich in vitamin C and A which are antioxidants that can reduce free radicals amounts in the body. The antioxidants can keep cholesterol from oxidizing. Besides, folate in spinach is good for a healthy cardiovascular system. Magnesium in spinach also helps to lower high blood pressure. This reduces further kidney damage to some extent.
2. Immune supporter
The high amount of antioxidants found in spinach help boost your immune system. With strong immunity. If your immune system gets something wrong, you are more prone to be attacked by outer bacteria. And you are easy to suffer from illness. Diet affects the immune system and spinach is such a food that can boost immunity.
3. Alleviate anemia
The iron in spinach helps the regeneration of red blood cells and is an excellent blood builder. As for people with anemia, they can eat spinach properly.
Eating too much spinach can cause kidney stone. However, if you eat spinach properly and moderately, you can get many benefits. So you should decide whether you can eat spinach or not according to your own medical conditions.