What Causes Kidney Stone
2013-01-05 02:02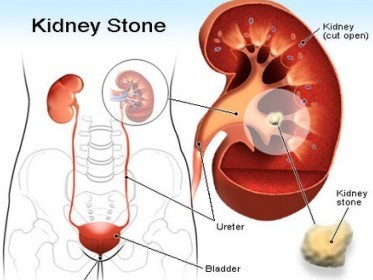 What causes your kidney stone? Kidney stone is not serious enough to deprive our life if we deal with it properly. However, as many patients have no idea about how to the causes of kidney stone, they take the wrong medical treatment easily. This article is aimed at introducing the common risky factors for kidney stone, hope it is helpful for you to prevent reoccurrence of this problem.
1. Drink less water
Lack of fluid is the most common cause of kidney stone and many patients develop kidney stone as they drink less water. Our kidneys filter blood and produce urine, during which wastes like calcium oxalate, calcium phosphate and uric acid are discharged. However, if we drink less water, less urine are formed and consequently, these wastes can not be excreted timely and fully. Wastes like calcium oxalate and calcium phosphate build up and form kidney stone. Therefore, drinking much more water is very helpful for preventing kidney stone.
2. Improper diet
Diet is another common factor that can cause kidney stone. For people with kidney stone, they need to found out the component of their kidney stone and then regulate their diet on the basis of this. For instance, for people with calcium oxalate kidney stone, they need to limit calcium oxalate intake by eat less foods like spinach, brassica juncea water spinach and meanwhile avoid ingesting large amounts of vitamin C. For elder patients, if they need to replenish calcium, they need to take calcium supplement while having dinner.
3. Some medical conditions
Some medical conditions such as Crohn's disease, urinary tract infection, renal tubular acidosis, hyperparathyroidism, medullary sponge kidney and Dent's disease have been known to lead to kidney stone. Therefore, if you are suffer from one of the diseases, you need to take corresponding medical measurements to prevent kidney stone.
4. Some medications
Long-term taking of some medications also increase our risk of developing kidney stone and they are Indinavir, some Diuretics and antacids. Therefore, if you are taking some of these medicines, try to be alert about kidney stone. Also, you can ask your doctor to replace these medicines with other medications which have same treatment effects with them.
Many conditions can trigger the occurrence of kidney stone and apart from what we mentioned above, some environment factor, hereditary factor and metabolic factors also can contribute to kidney stone. According to clinical studies, kidney stone relapses easily about a half of patients suffer from relapsed kidney stone. Therefore, founding out the causes of kidney stone and then prevent the reoccurrence of it is very necessary for kidney stone patients.
Get free online analysis for your illness condition here. Choose any of the following tools to start instant communication with our experts.
Leave Message
Leave your problem to us, we are here to help you with free charge!