What Is Kidney Stone Prognosis
2012-10-16 14:28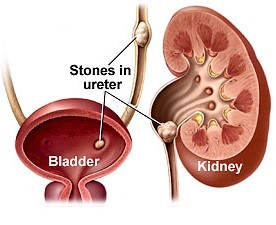 Kidney Stone prognosis refers to the possible outcome that caused by stones in kidney. As kidney stone has different types in clinic, so the prognosis of it various greatly. But there is a common point and that is once a person develops a kidney stone, he will be very likely to develop another one.
According to clinical investigation, the prognosis of Kidney Stone goes as follow:
1. Decreased kidney function
Small kidney stones can be passed easily by means of taking enough more fluid. However, for these big stones, they cause kidney damages easily while moving in kidney. Kidneys play such an important role in our daily life and once being damaged, our life will be affected seriously. Therefore, for these with kidney damages caused by kidney stone, medical treatment for kidney is necessary.
2. Obstruction of the ureter
Big stone may get stuck in urinary tract and cause obstruction of the ureter. In this case, patients usually experience extreme kidney pain, hydronephrosis, anuria and even kidney tumour. For people with hydronephrosis caused by kidneys tone, hydronephrosis can be remitted effectively, if kidney stone is removed successfully, but the impaired kidney function is hard to be repaired.
3. Urinary tract infection
Urinary tract infection is the most common seen prognosis, or can be called complication, of kidney stone. With such a condition, going to doctor for solution is necessary, otherwise, worser condition may be caused.
Occurrence of kidney stone has close relationship with many conditions like diet, living environment, genetic factor and medications. With different measures, kidney stone patients usually have different prognosis, so once kidney stone is found, finding the best management before really start is very beneficial.